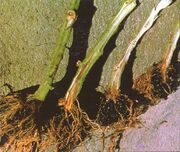 Identifying Features
[
]
Poor drainage can lead to root disease. Below ground the roots become dark brown and corky, above ground the plants tend to wilt in hot weather.
Treatment
[
]
Roots cannot be cured once they have taken hold. Mulch around the stems with moist peat to promote the formation of new roots.
Prevention
[
]
Next year grow plants in bags, fresh compost or sterilised soil.