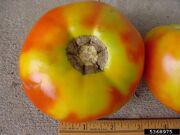 Greenback, Green shoulders or Yellow shoulder disorder is a condition of ripening tomatoes. The disorder is caused by high temperatures and too much exposure to sunlight.[1] As the tomato ripens the chlorophyll fails to break down or breaks down very slowly causing the stem-end of the fruit to remain green.[1] The disorder is more prevalent in heirlooms and larger tomatoes, but is generally bred out of hybrid varieties.[1] There are some tomato varieties that will naturally have a green tint on top.[1]
Internal white tissue, Yellow eye, Yellow shoulder, and Green shoulder are all names for the same condition, but at different severities.[2]
Identifying Features
Edit
Area around stalk remains hard, green or yellow and unripe. Caused by too much sunlight or too little potassium.[3]
Treatment
Edit
None.
Prevention
Edit
Control heat and provide shade during particularly hot weather. Feed regularly with potassium fertiliser. Resistant varieties are available. Tomatoes can be picked as they begin to ripen and can continue ripening indoors.[1] Tomatoes with greenback are still edible, just cut the green sections off.
References
Edit
↑ a b c d e Tee. Tomato Quirks Part 3 – Green Shoulders. Veggie Gardener. Retrieved 2010-07-25.
↑ Bachi, P. (2008). - Yellow shoulder disorder. Forestry Images. Image Number: 5368975. Retrieved 2010-07-25.
↑ Hessayon, D.G. (2009). The Vegetable & Herb Expert. Transworld Publishers, London. p. 104. ISBN 9780903505468
Community content is available under
CC-BY-SA
unless otherwise noted.