Jurassic World: Dominion Dominates Fandom Wikis - The Loop
Play Sound
Plant Data
Min germination temp:
16°C (61°F)
Max germination temp:
41°C (106°F)
Germination time:
5 days
Time to transplanting:
+17 days
Time to harvesting:
+45 days
Mature height:
30cm (12in)
Mature spread:
240cm (94in)
Ideal pH range:
5.5 - 6.8
Sow depth:
1cm (½in)
Sow spacing:
30cm (12in)
Sow row spacing:
30cm (12in)
Growing plant spacing:
45cm (18in)*
Growing row spacing:
45cm (18in)*
*Plants should be transplanted into holes 30cm (12in) deep
References:
[1][2]
Hardiness Zones
UK Hardiness Map
European Hardiness Map
USA Hardiness Map
The cucumber (Cucumis sativus) is a widely cultivated plant in the gourd family Cucurbitaceae, which includes squash, and in the same genus as the muskmelon.
Planner
[
]
Greenhouse
J
F
M
A
M
J
J
A
S
O
N
D
Sowing time
Transplanting time
Cutting time (greenhouse)
Outdoors
J
F
M
A
M
J
J
A
S
O
N
D
Sowing time (indoors)
Transplanting time (outdoors)
Sowing time (outdoors)
Cutting time (outdoors)
Growing
[
]
Location
[
]
Outdoors
Choose a sunny spot protected from strong winds. Outdoor cucumbers are far from hardy.[2]
Soil
[
]
Greenhouse
Do not grow plants in border soil. Use John Innes No.3 in 25cm (10in) pots or use growing bags.[2]
Outdoors
Ensure the soil is well drained and rich in humus. Prepare planting pockets 2 weeks before sowing seeds or planting. Dig a hole at the intended site of each plant 30cm (12in) deep and 30cm (12in) wide. Fill with a mixture of compost or rotted manure and soil. Leave a low mound at the top.[2]
Sowing
[
]
Greenhouse
Raise seedlings under glass maintaining 21-27°C (70-80°F). Place one seed edgeways 1cm (½in) deep in seed compost in a 7cm (3in) peat pot. Sow Feb-Mar for a heated greenhouse or Apr for unheated.[2]
Indoors
Place one seed sideways 1cm (½in) deep in seed compost in a 7cm (3in) pot. Keep at 21-27°C (70-80°F) until germinated. Gradually harden off seedlings before planting in pockets outdoors. Disturb the roots as little as possible when transplanting. Water thoroughly.[2]
Outdoors
Sow 3 seeds 2.5cm (1in) deep at the centre of each prepared pocket. Cover with a large jar or cloche to speed up germination. When the first true leaves have formed, remove the two smallest seedlings.[2]
Aftercare
[
]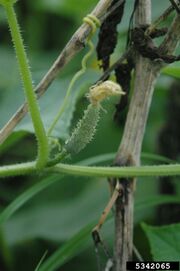 Feed with liquid tomato fertiliser once the first fruits have begun to swell. Re-apply every 2 weeks.
Greenhouse
Maintain temparature of 15°C (60°F) for ordinary varieties or 21°C (90°F) for all-female varieties.[2]
Maintain moisture, but avoid waterlogging plants. Keep air well ventilated, spray the floor to maintain humidity.[2]
Train the stem up a vertical wire or cane. Pinch out side shoots 2 leaves after any female flower or at 60cm (2ft) if no female flowers form.[2]
Remove all male flowers from ordinary varieties, fertilised fruit is bitter.[2]
Outdoors
Pinch out the growing tip when the plants have developed 6 or 7 leaves. Side shoots will then develop. These can be left to trail over the ground or be trained up netting. Any shoots not bearing flowers should be pinched out at the 7th leaf.[2]
Water around plants, not on them. Mist in dry weather.
Placing black polythene around the plants in summer before fruit formation will raise soil temperature, conserve moisture, keep down weeds and protect the fruit from rot.
Harvesting
[
]
Do not pull fruit to harvest; cut fruit once at a reasonable size. Cropping will cease if you allow fruit to mature and turn yellow on the plant.
Troubles
[
]
Full troubles list: Cucurbit troubles
References
[
]